A message from the Managing Director
Our corporation, Thai NS Solutions, was established in 2013 as an overseas affiliated company of NS Solutions Corporation in Thailand.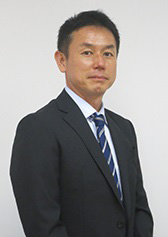 Thai NS Solutions Co.,Ltd.
Managing Director
Ryoichi Kubo
NS Solutions Corporation is the core company of NS Solutions Group, whose predecessor was the Information Technology Division of Nippon Steel Corporation, which is one of the world's leading steelmakers. Business and process computer systems for such huge steelmakers are required to be very much sophisticated and flexible, so that they could cope with production control for small quantities and large varieties of specifications more than tens of thousands, as well as continuous operation of 24 hours a day, 365 days a year. Based on those rich accumulation of business experiences, NS Solutions Group has its built-in advantage to provide high level one stop service for System Lifecycle Total Solution, from the stage of engineering and building of customers' computer systems, up to the stage of operation and maintenance.
We have been tackling, under close cooperation with customers, many themes peculiar to Thailand, such as "Intensification of Production Control," "Strengthening of System Engineering Function," "Response to Thailand plus One *
We will make every efforts in order to meet wide range of solution needs from Japanese-owned companies launched into Thailand and other ASEAN countries in manufacturing, financial, and service industries, by keeping close coordination with our group companies in Japan and other countries, and by building up a handpicked team of core staff members who have through understandings of quality of Japanese products and service levels expected by Japanese firms. We look forward to your generous patronage.
* (which means, for example, international role-sharing to shift labor intensive production processes to neighboring cheaper labor countries)," etc.
NS Solutions Group Global Expansion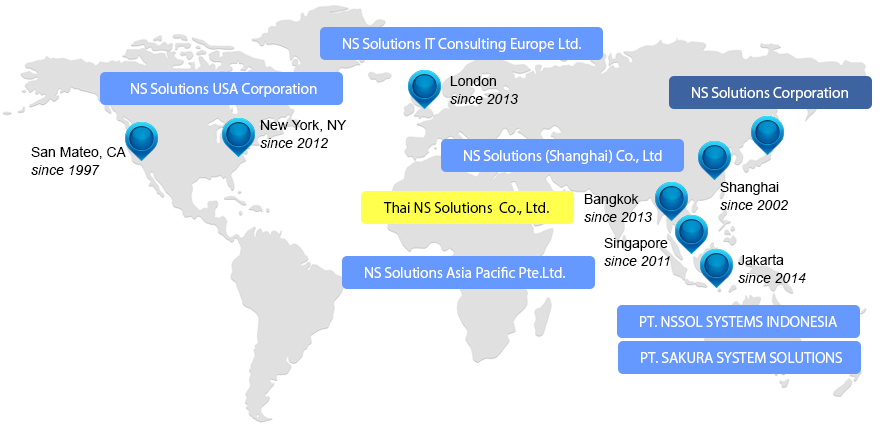 Core Values
As a leading ICT (Information and Communication Technology) solution provider, Thai NS Solutions commits to establish trust relationship with customers and employees to create true business value and to achieve mutual sustainable growth.
Thai NS Solutions, through tireless effort, strives to boosts the value of our customers' businesses by combining extensive business knowledge with state-of-the-art information technologies.
Thai NS Solutions continually focuses to develop employees' capabilities through work assignments, carrier management and professional training.
Thai NS Solutions endeavors to increase its corporate value and continually returns profit to shareholders.
Thai NS Solutions takes initiative to contribute developing a vital and secure global society.
Global code of Business Conduct
All directors, statutory auditors, officers and employees of NS Solutions Corporation and its subsidiaries (the "NS Solutions Group" or the "Group") shall comply with this Global Code of Business Conduct (this "Code"). For the purposes of this Code, each director, statutory auditor, officer and employee of the NS Solutions Group is referred to as a "Member."
We conduct our business in a manner that respects the rights and dignity of all people, in compliance with applicable laws and regulations, and with the highest ethical standards. We develop and deliver high-quality services that contribute to society, thereby increasing customer satisfaction and enhancing their trust in us.
We promote fair and free competition and ensure that our transactions are appropriate. We maintain healthy and fair relationships with political and administrative bodies and business partners.
We protect and respect intellectual property and create new value through innovative technologies and solutions.
We communicate extensively with the public, disclose corporate information in a proactive and fair manner, and vigilantly safeguard and manage various types of information.
We maintain a safe, healthy and comfortable work environment and respect the individuality and diversity of our Members.
We actively engage in conservation of the global environment and contribute to local communities and society as a good corporate citizen.
We have no relationships with so-called antisocial forces (i.e., groups or individuals pursuing economic gains by means of violence, threat or fraudulent means) and stand resolute against undue demands.
We comply with the laws and regulations of the relevant countries and regions and respect global norms and standards, as well as local cultures and customs, in conducting our businesses.
We abide by this Code and shall establish a system to ensure its full implementation. In the event of a violation of this Code, we will act promptly to identify the cause thereof and to take measures to prevent a reoccurrence and fulfill accountability requirements.
Company Profile
Thai NS Solutions Co.,Ltd.
Head office
1 Empire Tower, 31st Floor,South Sathorn Road,
Yannawa, Sathorn, Bangkok 10120, Thailand
TEL:+66-(0)2-286-3630
FAX:+66-(0)2-286-3631
Rayong Regional Office
WHA Eastern Industrial Estate (Map Ta Phut)
2nd floor, 18 Pakorn Songkrohraj Road, Huay Pong Sub-disteict,
Muang District, Rayong 21150 Thailand
January 2013
April 2014 Merged with Palsys Software Co., Ltd. That founded in 1996
- IT System Development & Integration (AP & IT Infrastructure) including Shrink wrap Software & Hardware Products Sales
- IT System Operation & Maintenance
NS Solutions Corporation Group 100%